Tags
Against The Pull Of Silence, Anghiari, Berlin Wall, Flyht, Handel, Iron Curtain, Mendelssohn, Of All Persons and Estates, Peace My Heart, Simon Over, Southbank Sinfonia
I have stopped several times over the past few days to take it all in and have asked myself often how I have come to be where I am, how it is that Of All Persons And Estates should come to be performed by the combined choirs of the UK and German Parliaments to a packed Westminster Hall, brilliantly performed and enthusiastically received.  At the back of my mind the voice repeats that it is who you know rather than what you know, but kindlier voices than my own remind me that it is what you know that gets you in a position to make the acquaintance of who you know, and then it all rolls on merrily from there.
Our German guests were simply delightful, and I brushed off my very, very rusty German A-Level for a rehearsal with them dedicated to my piece, explaining the how and why of its writing, how there were only really two themes in there (which I still think is one too many) and so on.  At the end of the hour they were, I think, converted, and I spent a surreal twenty minutes or so signing copies of the score and promising them that, yes, the return visit was in my diary.  That we later were guests at a rather decent reception and that they went on from there to watch their national team thrash the World Cup favourites put everybody in rather a good mood for the day of the performance.
The scale of the preparations for the event, only the second (I think) public concert in Westminster Hall, is something I can barely imagine, and I thank my lucky stars that my position with the Parliament Choir does not come with attendance at planning and committee meetings attached.  For all those, however, who have sat through those interminable meetings, my sincere thanks are due, even more so as I have been made aware of some of the oddities (let's say) of procedure to be followed.
Still, the sold out crowd of 1000 plus came in, including many familiar faces and friends of long standing, and we were treated to a fabulous evening of music by Mendelssohn and Handel, with my piece tucked into the middle.  The highlight of the night, though, was surely the quietly authoritative speech made by the President of the Bundestag, speaking of the accession of the Hanoverian monarchy three hundred years ago, but also, eloquently and elegantly, about the two World Wars and Germany's role in them, and the lasting scar of a divided country, the Iron Curtain and the Berlin Wall.  It was something very special and moving, and the powerful symbolism of music uniting those of different backgrounds, whether in the trenches or in friendlier times, was not lost on those present.  Here is a bass-eye view of his speech: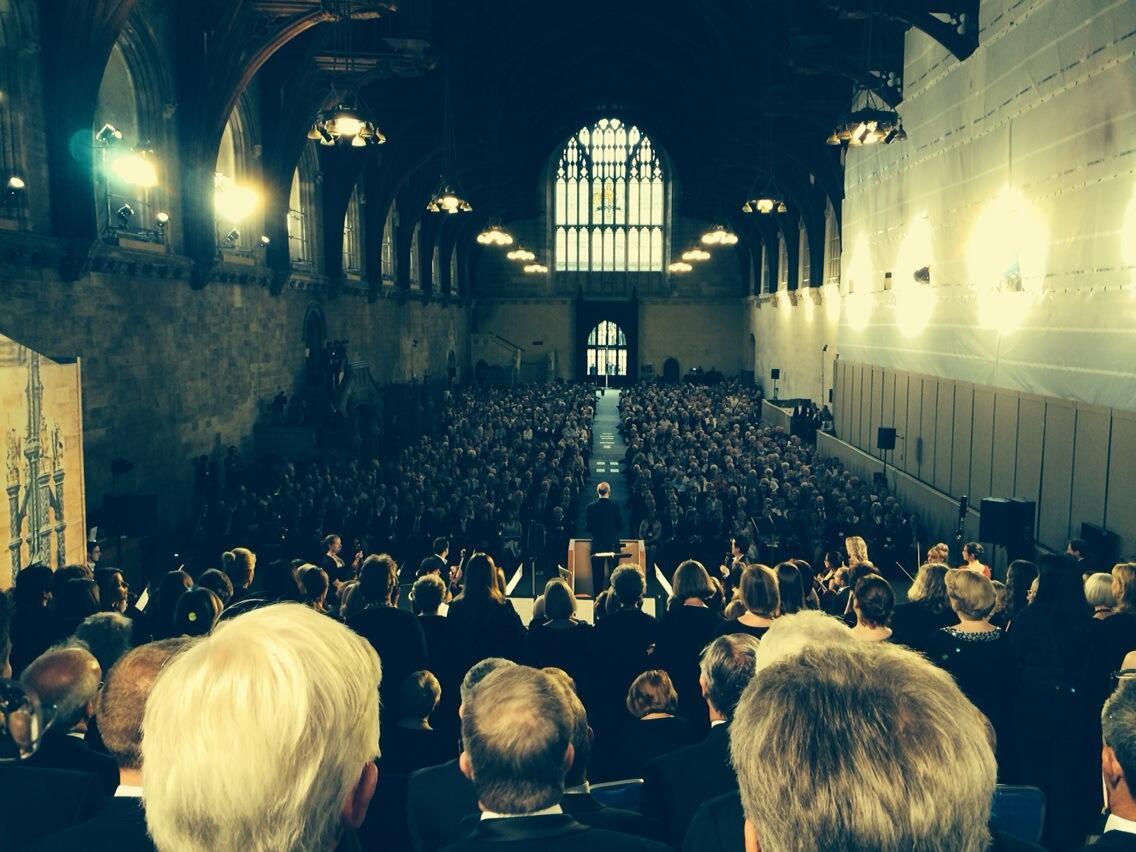 Radio 4 have been recording for a documentary about this concert, and I was asked when interviewed whether music really could bring people together.  You only have to look at the Parliament Choir on a Tuesday night rehearsal, I said, to see the answer to that, and another speaker yesterday made the point that politicians spend too much time talking at each other and not enough time singing with each other.  I paraphrase slightly, but amen to that.  And there must be a reason, of course, why repressive regimes suppress music and art as one of their first acts.
I am having a day off today after the rush of this week, spending some time with my other half and the cats, going out for a late and leisurely lunch, and then it will be back to the arrangements for Anghiari and writing the introductions for the concerts out there.  I also have the performance of Peace, My Heart to look forward to this weekend, and might just allow myself a quick five minutes to consider all the positive remarks made about my music recently, all of which bolster my confidence and self-belief.
Of course, I must thank Simon Over and the wonderful Southbank Sinfonia, made up of so many old friends, who truly dug into Estates and seemed really to enjoy playing it.  Some thought it like Britten, some like Elgar, many like Vaughan Williams, but, best of all, it is clearly English, and one person in particular thought that the introduction conjured up a vision of powerful waves against an English shore, of dappled sunlight through clouds and rolling hills…which reminds me, it is nearly time for my holiday to The Lakes.  Both pieces I wrote there last year (Flyht and against the pull of silence) have come into being and been well received, and this year I shall be working on the Carta Cantata.
Thanks are also due to the many people who made this concert happen and those who were so keen for my music to be represented, a piece written for our Parliament Choir setting the words said in the two chambers, in private, every morning.  I spotted one particular baroness going for it with real gusto during the performance!
Lastly, but certainly not leastly, I hope that some of our German guests might be reading this.  It was truly an honour and a joy to work with them, and they seemed to have a really wonderful time.  I wish them a happy flight home later today, look forward hugely to working with them again later in the year (fingers crossed!) and I know who I will be supporting come Sunday evening.